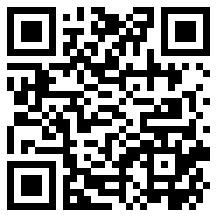 What is that puzzle above?
Let me explain… I have been reading about the QR Code madness in east Asia for some time. While there are other alternatives to this coding system, it seems like QR Code is the best one to use for free.
So what is QR Code anyway? It is a two dimensional bar code system developed by Denso-Wave in 1994. Now this system has started being used everywhere for marketing. You can read more about QR Code on Wikipedia.
That puzzle above, is the QR Code of my Symbian S60 theme, Inferno. If your phone has a camera (sorry for E61 users ;)) and it is a Symbian S60 3rd edition device, you can fire up your QR Code reader software, point your camera to the QR Code above and install the theme immediately! No address writing hassle on your phone… We call this, "technology"! 😀
If you don't have QR Code reader software on your phone, you can download it from QuickMark. Nokia 3250 version works perfectly on my E70.
Now, let's start thinking about implementing this to my work projects. Hmmm… 💡